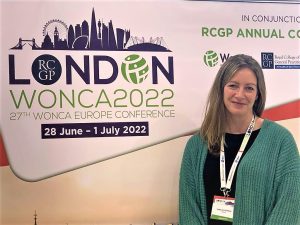 Family doctors from across Europe commended the work of Translate Ireland at a major European conference held in London this week.
Dr. Catherine Clifford, Co-Founder and Medical Lead of Translate Ireland, spoke to delegates at the World Family Doctors European Conference (WONCA) at the ExCel Arena about the need for multilingual video messaging, communicating with migrants on health issues, the recently launched 'My Health My Language' programme with the HSE Social Inclusion Office in Ireland and the prospect of replicating Translate Ireland's approach in other countries.
She said: "GPs from around Europe were so impressed by what's being done in Ireland. They highlighted the many challenges for migrants accessing healthcare. And they were excited by our multilingual video messages and impressed that the HSE had recognised the need for effective communication with people moving to Ireland from around the world."
Indeed earlier this week Dr Mike Ryan of the World Health Organisation praised the work of Translate Ireland and HSE Social Inclusion in designing the 'My Health My Language Programme' saying "By ensuring that the information is available in so many languages, you are ensuring better health for all. By using health workers as the spokespersons, you are reinforcing and amplifying the position of trust they hold at the heart of communities, everywhere in the world."
Dr Clifford added that doctors attending the conference in looking were actively seeking tools to help them better communicate with patients of different nationalities.
She said: "There was a strong theme of health equity at the conference and many GPs are passionate about ensuring that all their patients have access to  the medical care and information they need. GPs across Europe are under pressure and we need tools to help us to help our patients effectively, that includes those for whom English is difficult to speak or understand and for those who come from different cultural backgrounds."
To find out more about the 'My Health My Language' series go to My health my language – HSE.ie